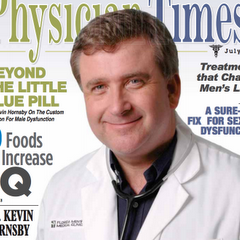 Family Practice, Board Certified
Kevin Hornsby is a highly acclaimed men's health doctor who specializes in erectile dysfunction and premature ejaculation. His success in the field is largely thanks to an impressive educational background. He grew up in Alabama and later attended the University of Alabama medical school. Upon graduation, he spent many years working in the emergency room of University of Alabama Birmingham Hospital. Here, he was given the opportunity to work on an erectile dysfunction clinical trial. These experiences fueled his desire to pursue this unique niche of medicine. He is the  founder of Men's Medical Clinic, a Nationwide medical franchise. Because of his expertise, countless men have been able to reclaim their sex lives.
At his nationwide medical practices, Kevin Hornsby offers treatment that goes beyond the various market products. Often, these common medications and traditional means do not produce the desired effects or are coupled with significant side effects.  Over the counter medications such as Viagra and Cialis dilate blood vessels throughout the entire body. This can be problematic for those with preexisting health issues.
When a patient presents with erectile dysfunction, Kevin Hornsby and his all male staff undergo a specific protocol that aid them in determining a customized treatment plan. As the comprehensive medical exam delves into personal questions about the patient's family history, habits, and sex life, Kevin Hornsby makes himself very approachable and assures confidentiality. Getting past the misconceptions and awkward stranger threshold is the key to finding proper treatment. Kevin Hornsby has dedicated his life to helping men who suffer from erectile dysfunction and premature ejaculation. Call one of our many Men's Medical Clinics today to take the first step toward the sex life you desire!